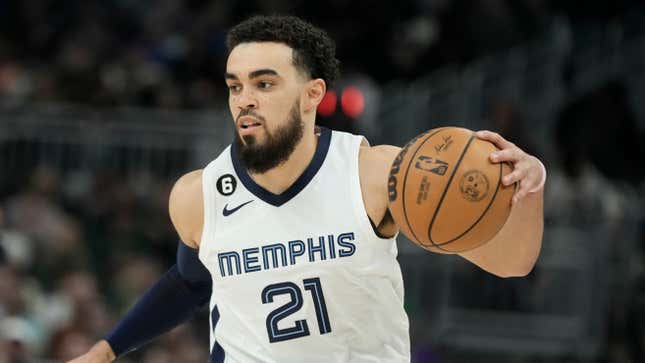 "It's the Tyus Jones Series Now" and "LA Has a Big 3"
The Lakers' season-opening win saw momentum dramatically shift from Los Angeles to Memphis in a short amount of time. Just before halftime, Anthony Davis collided with Jaron Jackson Jr. and felt pain in his right arm. Luckily, it was just a stinger, and as usual, Davis re-emerged for the second half. Then, just a few minutes into the second half, Ja Morant fell to the floor, braced himself with his right hand, and then disappeared into the tunnel. Backup point guard Tyus Jones can make a case for having the league's best understanding at the position, but Morant is everything for Memphis. Morant's availability for Game 2 is in question as he was reportedly still in pain. The fate of Memphis' season is likely to rest in Jones' hands in the interim.
In sports, Morant has missed this season, Jones averaged 16.8 points with 8.2 assists, and he also had plenty of practice. Until further notice, this is Team Jones.
While we are overreacting, this is not the AD-LeBron Lakers anymore. Austin Reeves deserves consideration for the marquee. (probably not yet, but it's worth considering,