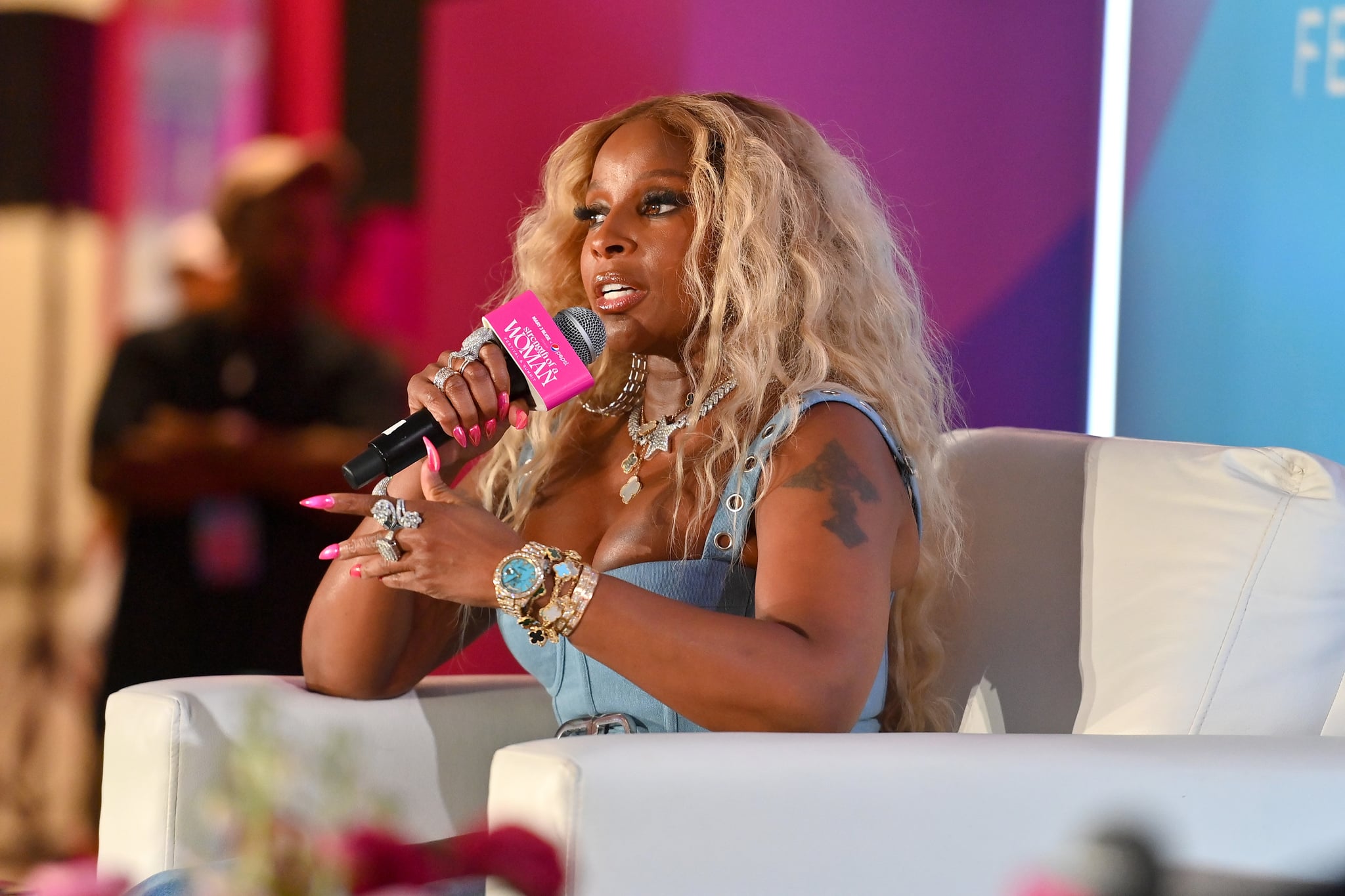 Mary J. Blige's name has always been synonymous with empowering others, namely through her iconic music, but now she's extended that reputation into another successful venture: The Strength of a Woman festival. This year, the Atlanta event made upliftment, education and empowerment the number one goals in every aspect of the four-day affair (May 11-14) – from a moving Mother's Day Gospel Brunch and extravagant house ball to live celebrity-led concerts Until the program But that mission was most evident during Blige's Thoughtful Summit held at AmericaSmart on May 13, where stars gathered to share wisdom about entrepreneurship, business, health, wellness, and more with celebrants in the name of unity. Happened.
Walking into the building — decked out with all kinds of cool activities, booths, and vibrant pink decorations — felt like arriving at a family reunion. Renowned personalities and attendees, both experienced and young, all came together in one place to interact with the aim of building genuine connections and disseminating knowledge. As a Black woman, being surrounded by people who looked like me felt affirming. And the thing to think about is that this event is only in its second year.
"It went from being a rooftop meeting at the Waldorf Astoria in Los Angeles, so it means a lot that it's here."
Backstage at the event, Blige expressed to POPSUGAR how incredible it has been to see her festival and summit rise from its humble beginnings as a simple idea on the roof of a hotel. The R&B icon explained, "It's amazing. It's surreal because it was an idea we had two, three years ago, me and my team, and it's here now." "It went from being a rooftop meeting at the Waldorf Astoria in Los Angeles, so it means a lot that it's here."
Curated by Ashouna Ayers, founder of Blige and Ayers Agency, in partnership with Pepsi and Live Nation Urban, the Strength of a Woman summit included panel discussions and programming that highlighted the beauty of community among women. The day-long event was led by some of the most influential Black voices across various industries — including but not limited to stars like Blige, Ciara, Marsai Martin, Angelica Ross and others — and they all had a lot to give. There was something powerful about it.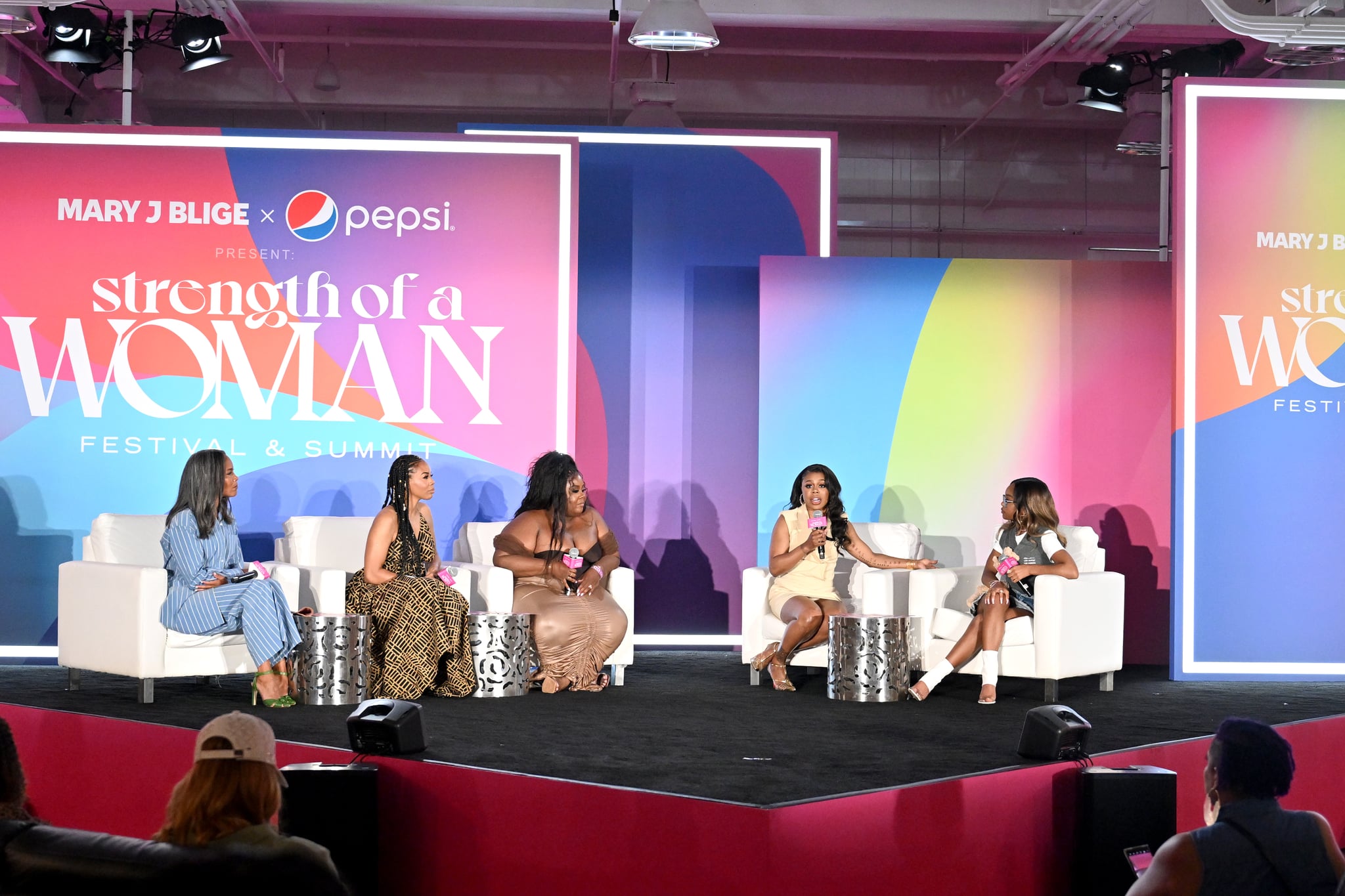 During Martin's fire-filled conversation with fellow panelists Gail Bean, Brandi Evans, Raven Goodwin and Mara Brock Akil, the 18-year-old actor and producer talked about the power he's discovered from telling Black stories on screen. "I'm constantly growing. I started 'Black-ish' when I was 9 years old… to now be able to create my own content and hire people and fire people, To be able to create my dream project, my strategy, and my plan is the best compliment I've ever received in my life," she shared.
Elsewhere, the summit was filled with more touching moments, such as when Blige graced the panel stage and was lovingly recited by audience members to the lyrics of her hit song "Just Fine". Shortly thereafter, the singer and "Power Book II: Ghost" star shared with the crowd the inspiration behind her celebration. Blige explained, "The thought process came from performing and loving and respecting the women in the audience, and loving how much my music has done for them." "My music is a movement that has touched so many women and saved so many lives, so Pinnacle is about that; what music has done to uplift, encourage, inspire and make us all love each other." brought together for."
"Mary is The woman who has overcome everything."
Blige's heartwarming intentions behind the second Strength of a Woman event were evident in each setup; Even the stars were amazed by the end result. Speaking to POPSUGAR ahead of her panel, Bean described being a part of Blige's festival this year, saying, "Oh my god, it feels good." "It just feels like old Atlanta," said the "Snowfall" and "P-Valley" star. We talk about old Atlanta and new Atlanta, so seeing all the black people coming out, celebrate it, love , success, a good time, all the good things in Atlanta."
As far as Blige being the face of the Strength of a Woman festival, Bean said, "Mary is The woman who has overcome everything. So to be able to see her standing here, shining, celebrating, pouring something, and pouring it back into us, ladies just tell you, one: Redemption is real. Two: The black woman is undefeated. So it's kind of a foreshadowing of what my future might look like because representation matters."
It really does, and Blige couldn't be a more perfect person to represent the strength of a woman. This year's summit was proof.