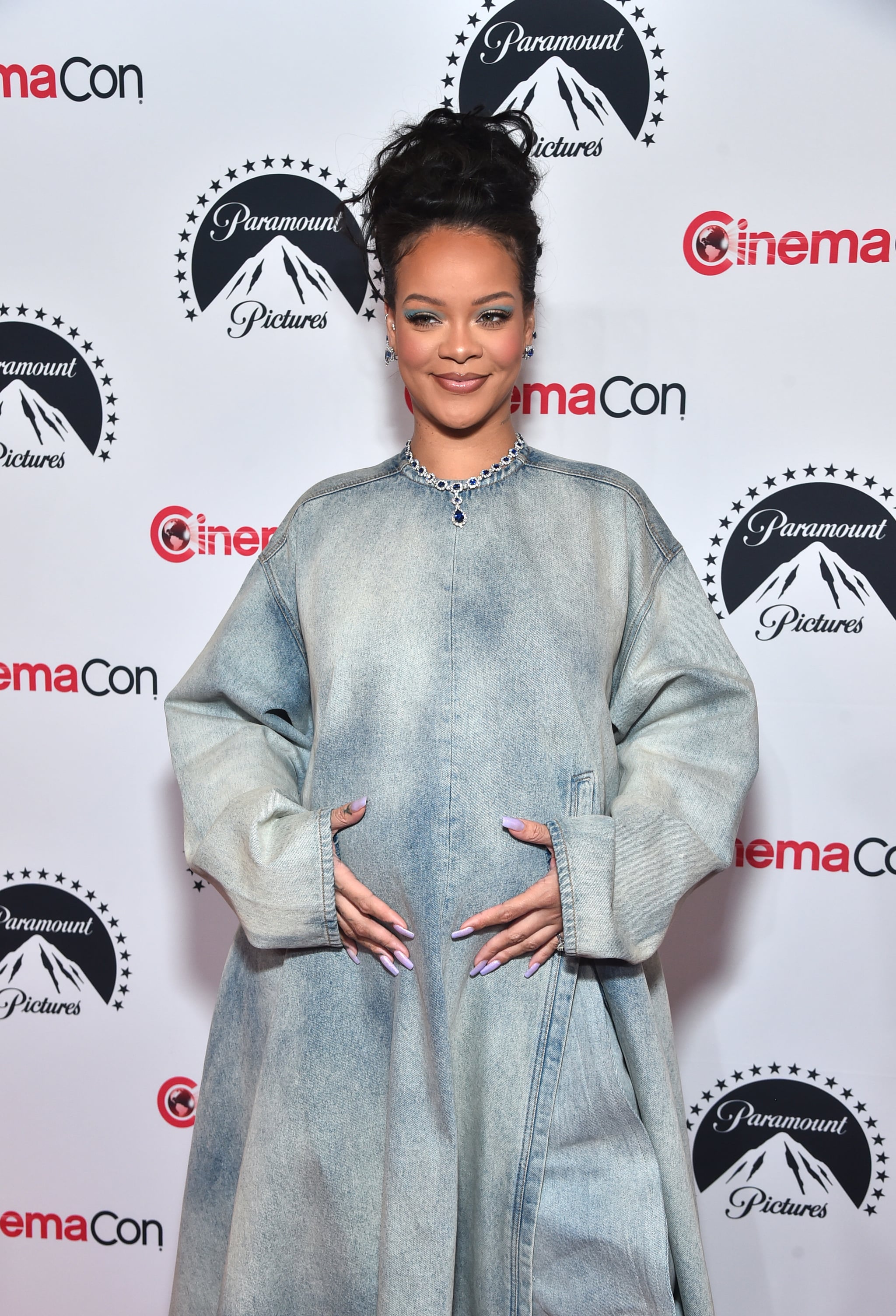 Image Source: Getty / Alberto E. Rodriguez / CinemaCon
Rihanna is lending her voice to a new project, but this isn't the ninth album fans have been expecting from 2016. On April 27, the "Lift Me Up" singer made a surprise appearance at CinemaCon in Las Vegas, where she announced that she is playing Smurfette in the upcoming Smurfs musical film.
According to Entertainment Weekly, in addition to voicing the animated character, Rihanna joins the Chris Miller and Matt Landon-directed project as a writer and producer. Notably, the Paramount adaptation will follow a different story from Sony's three-part series, which starred Neil Patrick Harris, Katy Perry, Sofia Vergara, and Hank Azaria. The upcoming musical will also feature original songs by Rihanna. This isn't the album we've been waiting for, but new music is new music.
"I have to play a role and just imagine it. I just have to be myself."
Rihanna has showcased her acting skills in high-profile films such as "Ocean's 8" (2018) and "Battleship" (2012) in the past, but has not starred in voice acting since the live-action/animation hybrid film "Home". The first venture of in 2015. "I got to play a role and just imagine. I just have to be myself," Rihanna, who is expecting her second child with A$AP Rocky, said of playing the classic blue character. "I had to show up in my third trimester in my pajamas and a little blue Had to play rogue."
In addition to giving Smurfette's character her signature moxie, Rihanna said she hopes the new role will get her "a little good point" with her children, including her nearly 1-year-old son. Jokingly, Rihanna said that she initially auditioned to play Papa Smurf, "but it didn't work out."
Paramount said, "On behalf of our studio and our creative partners, we are very excited to find one of the world's most beloved stars in our Smurfette." "With Rihanna's singular creative appeal and musical talents, there's a huge opportunity to elevate the cultural touchstone of The Smurfs universe in a way that's never been done before."
"The Smurfs Musical" is set to release on February 14, 2025, and no one is more excited than Rihanna. During her time on stage, the star said that re-imagining Smurfette was a "fun journey" and that she can't wait to see the project come true onscreen. He added, "The whole movie is going to be a lot of fun." "It's so thrilling."