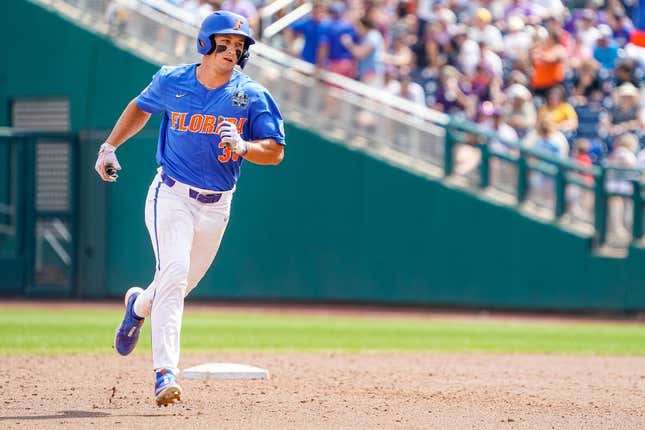 Texas Rangers Signed No. 4 overall draft pick Wyatt Langford on Tuesday, rewarding the outfielder with an $8 million bonus
Transformers' Cristo Fernandez wishes he was a '90s MJ to party with Rodman ultimate sports fantasy
This is one of the largest bonuses ever given to a drafted player. The Pittsburgh Pirates picked Paul Skenes, a pitcher, as the top overall pick early Tuesday for a record $9.2 million bonus.
Langford, 21, hit 47 homers over the past two seasons while starring in Florida.
"We think he's a perfect fit for what we're building here, given who he is as a person, his winning pedigree and of course his talent as a player." rangers said general manager Chris Young. "I think it's not often you have the opportunity to draft a player as accomplished as Wyatt, and certainly our goal is never to select at the top of the draft.
"But that said, it was a great year to have the top pick in the draft."
Langford batted .355 with a school-record 26 homers as a sophomore in 2022. This season, he hit 21 homers while batting .373 and earned unanimous first-team All-American honors.
The breakthrough came when Langford did not start a single game as a freshman (making four appearances, 1–4).
Langford said, "It all happened so fast, I feel like I'm stepping on campus for the first time in the fall just a few days ago." "I couldn't have had a better college experience. Even though I didn't play my first year, it made me who I am. I mean, if I didn't have to go through that, I'm not me. " I don't have the ability to go there and play for two years. It was my dream and the dream has come true. And it has led me to where I am today.
"It's a little unrealistic right now, but extremely exciting."
Langford's Florida team had lost to LSU in the College World Series the previous month.
–Field Level Media