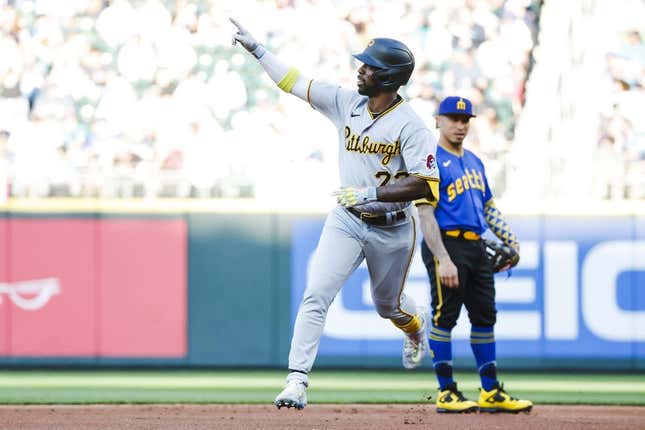 Jack Suwinski Pirates beat the host seattle mariners 11-6 in Friday night's three-game interleague series opener
Honor the Real Pat Tillman This Memorial Day
Brian Reynolds, K'Brien Hayes, Tucupita Marcano, Andrew McCutchen and Carlos Santana also went deep. Pirateswho had a two-game skid
Pittsburgh right-hander Mitch Keller (6-1) wasn't at his best, but he found plenty of support to lead him to the National League victory. Keller allowed two runs on seven hits and six runs with eight strikeouts over six innings.
Julio Rodríguez and JP Crawford scored for Seattle, whose four-game winning streak was snapped.
mariners Right-hander George Kirby (5-4) had made eight good starts in a row. Kirby gave up seven runs on nine hits in 4 2/3 innings, with one walk and four strikeouts. The four homers he surrendered were more than the one he allowed in his first nine games this season combined.
Pirates broke a 2-all tie with a run in the fifth. Austin Hedges and McCutchen led off with singles, and Reynolds hit a two-run triple to left. With two outs, Suwinski and Hayes hit back-to-back homers, the first to center and the latter to left, ending Kirby's night.
McCutchen led off the game with a homer to left-center, and Santana opened the fourth with a bomb to right.
Suwinski blasted a 445-footer to right-center off of Juan Thain with one out in the seventh. One out later Marcano went deep to right.
Reynolds capped the home-run derby with a solo shot off Chris Flexen with one out in the eighth, which hit the windows of the Hit It Here Cafe in the second deck in right field. Reynolds went 3 for 4 with four RBI and scored twice.
Rodriguez went 2 for 4 with three RBIs for Seattle. He hit a solo shot in the first inning and a two-run single in the fifth.
Crawford's two-run homer in the seventh sent Keller to the showers.
– Field Level Media