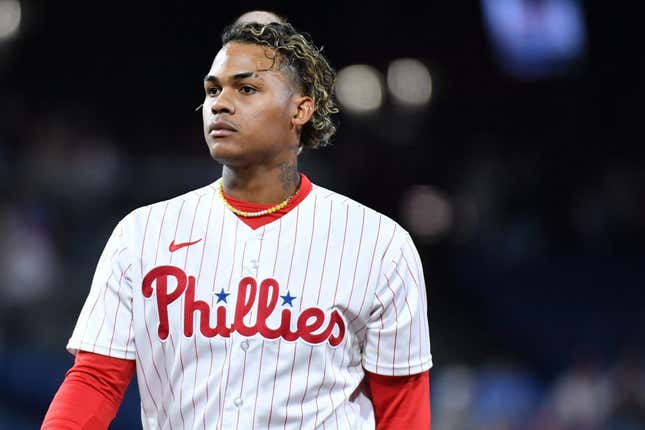 Philadelphia Phillies Outfielder Christian Pache was recalled from Triple-A Lehigh Valley on Friday ahead of the team's game against the Oakland Athletics.
Repatriation: Oakland A's suck less than previously reported Worst countdown of the week
Pache was on a minor league rehab assignment and was reinstated from the 10-day injured list after tearing the meniscus in his right knee on April 28 in a 3–1 win at Houston.
Outfielder Dalton Guthrie was optioned to Lehigh Valley on Thursday to make room for Pache on the 26-man roster.
Pache, 24, was traded from Oakland on March 29 in exchange for right-handed batter Billy Sullivan. Pache was batting .360 with one home run and four RBI in 25 at-bats in 18 games when he was hurt, apparently on a slip on the base path.
During his rehab work with Single-A Jersey Shore and Lehigh Valley, he had three hits—including a double and a homer—with five walks and five RBI in 30 plate appearances in seven games. He batted .120.
Guthrie, 27, was batting. 167 with four hits in 24 at-bats, three walks, seven strikeouts, and four runs scored.
– Field Level Media