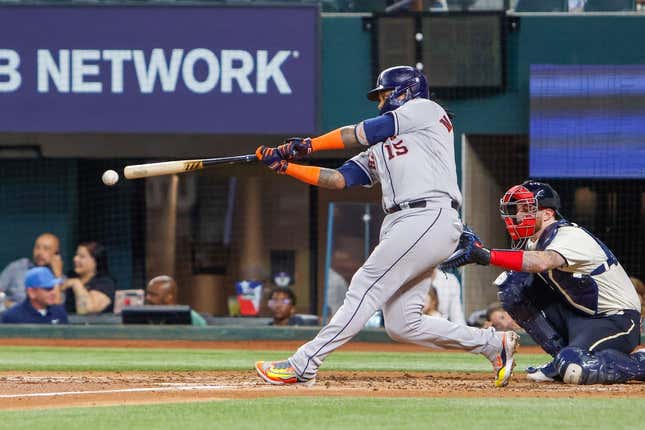 Jose Altuve hit the first pitch of the game out of the ballpark, but Houston Astros needed a sixth inning rally to beat Texas Rangers The four-game series starts 5-3 on Friday in Arlington, Texas
A bold move towards a different banana colored bench than we expected. keep it a buck(et)
trailing 3-1 Astros scored a run in the fifth on an RBI groundout by Altuve, and then completed the comeback one inning later
Mauricio Dubon hit a two-run double down the left field line, the second run coming when Yener Diaz singled him out. rangersRiley threw home to score from first. Dubon then scored on Jake Meyers' sacrifice fly.
The teams exchanged one run each in the first innings. Altuve sends first pitch fastball over center field wall rangers Starter John Gray. rangers In the bottom half, Marcus Semien tied it up when Nathaniel Lowe grounded into a double play.
Texas took a 3–1 lead in the fourth on back-to-back home runs from All-Stars Josh Jung and Jonah Heim. Jung sent an 0–1 fastball over the right-center field fence, while Heim sent a 2–1 fastball to center.
With his rally Astros tied the regular season series 2–2
Astros Starter Ronell Blanco (2-0) earned the win, allowing three runs on four hits and four walks and two strikeouts over five innings. Each of the four relievers pitched scoreless innings, including a 1–2–3 ninth by closer Ryan Pressley for the 16th save.
rangers Starter Gray (6-4) allowed five runs on seven hits with two walks and four strikeouts in six innings. Gray finished the month of June by going 1–3 in five starts. In two of these defeats, he conceded at least five runs.
–Field Level Media