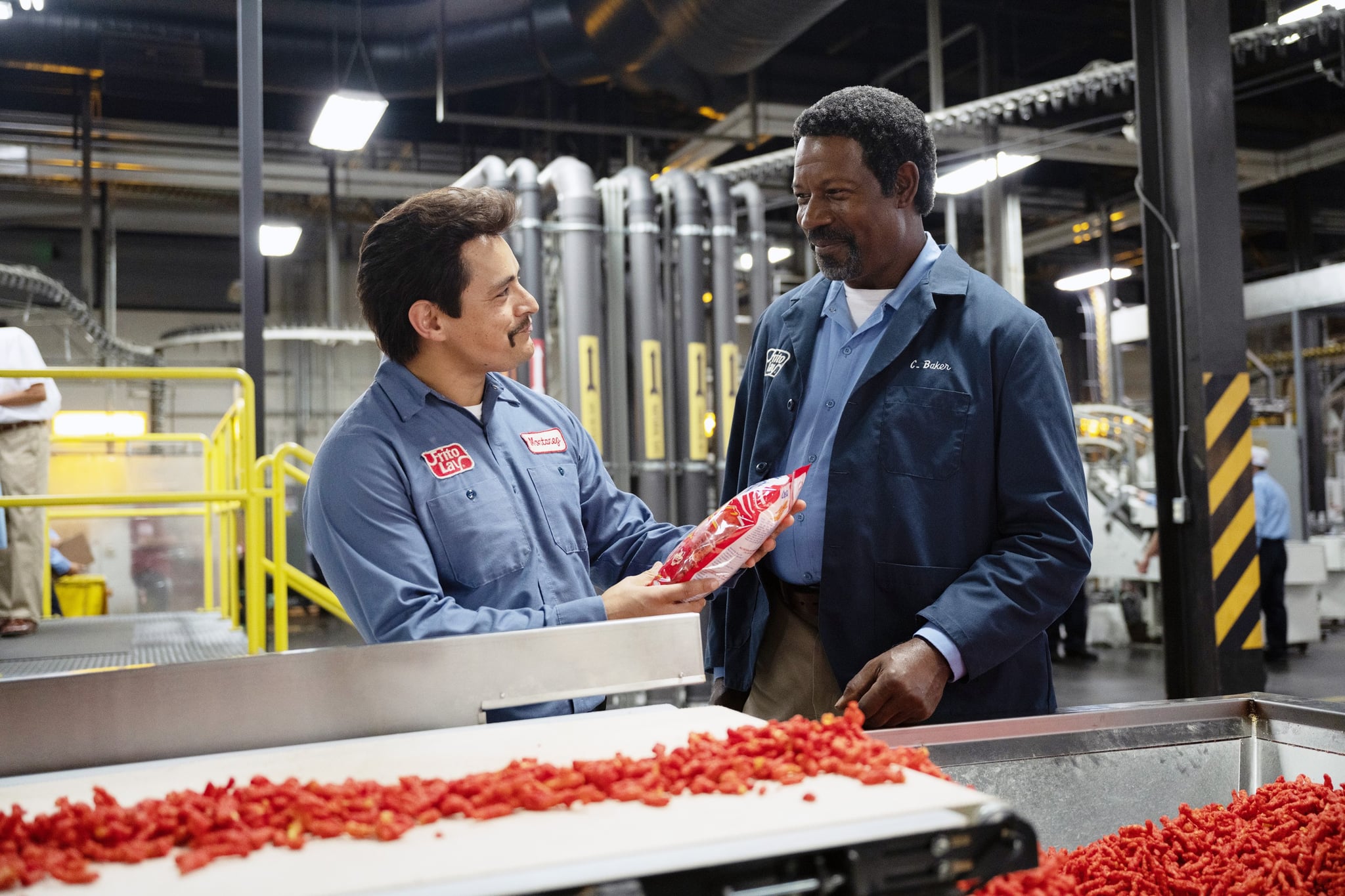 Hulu's new comedy movie "Flamin' Hot" presents itself as the story behind the invention of one of the most recognizable snacks in the world: Flamin' Hot Cheetos. At first glance, it has all the hallmarks of a "based on a true story" tale: a bizarre idea that leads from obscurity to an unlikely, made-for-movies take and a charismatic and determined protagonist at its center. All. In reality, though, there's less truth to the movie than you might expect.
Who is Richard Montañez?
"Flamin' Hot" is based on a memoir, "A Boy, a Burrito and a Cookie: From Janitor to Executive," by Richard Montañez. Montañez grew up in a working-class Mexican-American family in California, and left school to work. He eventually got hired as a janitor at Frito-Lay, which is where his story really begins.
In his book, Montañez describes how an apparent machine error led him to create the iconic snack. According to their version of events, a machine in the Cheetos line broke down, resulting in a batch not containing the signature orange cheesy powder. Montañez writes that he took home "plain" Cheetos and dusted them with chili powder instead, inspired by a street vendor in his neighborhood who sold Mexican street corn with lime and chili powder.
When his friends and family liked the taste of the new product, Montañez pitched it to Roger Enrico, CEO of Frito-Lay. According to CNBC, Enrico sent a video at the time "telling all the employees that he wanted them to take ownership of the company," and Montañez writes, "I called them, not knowing that you were the CEO. Securing a meeting, Montañez pitched the product, and the rest was supposedly history. Flamin' Hot Cheetos became a phenomenon, and Montañez climbed the corporate ladder, eventually landing an executive position at PepsiCo and making a career as a speaker of his rip-off story.
In 2018, Fox Searchlight announced that they would be producing a film based on his life story. It seemed like the American Dream.
Or, at least, until a few years ago.
Did Richard Montañez Invent Flamin' Hot Cheetos?
In 2021, the Los Angeles Times published an investigative report that appeared to disprove Montañez's claims.
"None of our records show that Richard Flamin' Hot was involved in the test market in any capacity," Frito-Lay wrote in a statement to The Times. "We have interviewed several personnel who were involved in test marketing, and all of them indicated that Richard was not involved in test marketing in any capacity… We value Richard's many contributions to our company, in particular Their insight into Hispanic consumers obviously, but we do not attribute the creation of Flamin' Hot Cheetos or any Flamin' Hot products to them."
According to the Times article, Flamin' Hot Cheetos were developed in 1989 through a fairly mundane process, born out of a need to compete with other brands offering spicy snacks. Montañez started out as a janitor at the company, and he pitched product ideas and eventually ascended to a director-level role in marketing, but faced an internal Frito-Lay investigation, as well as several relevant employees at the same time. Turns out, Montañez's story of the invention of Flamin' Hot Cheetos was not accurate. In fact, the "Spicy Snacks" project was first assigned to Lynn Greenfeld, a junior employee and new MBA grad, who worked with several others to develop the products.
When the news came to light in 2021, just after the "Flamin' Hot" movie was in production, the film's creative team insisted it was still a story worth telling.
Screenwriter Lewis Colick told Variety, "Did Richard embellish a bit? Was his memory faulty here or there? Who knows." "Truth is the product. . . . I think there's enough truth to the story. The heart and soul and spirit of the story is truthful. He's a guy who should remain the face of Flamin' Hot Cheetos."